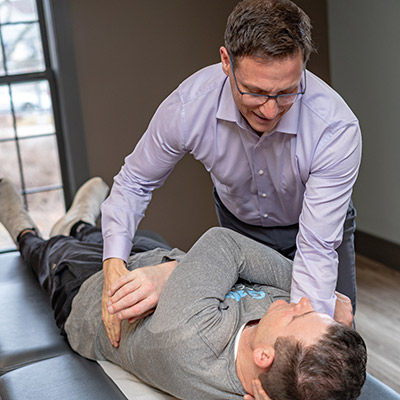 Sports Chiropractic in Madison
Youth Sports, Athletes & Concussion
As a former collegiate athlete, Dr. John knows what it takes to perform at a high level. At Shoreline Chiropractic, we see athletes of all levels. The many sports they participate in include:
Runners
Soccer
Basketball
Lacrosse
Football
Hockey
Track and field
We welcome anyone who is active to experience our care. The majority of our patients are from about third grade up to college. Many are middle school and high school athletes, which is when sports begin to take a toll. We can assist with pain relief, mobility and recovery.
You can also prevent injuries by maintaining your mobility. When you're pliable, flexible and aligned, you can experience fewer injuries and a quicker recovery when you are hurt. With proper maintenance, you can lower your risk of overuse injuries. Dr. John has trained for marathons and triathlons. He can educate you on how not to overtrain or get those overuse problems that can affect your ability to perform.
Today, more and more kids are participating in organized sports. They're becoming overbooked and are performing at higher levels, running their bodies ragged. That's when injuries start to occur. We can help your children be able to remain playing their sport without the worry of pain or having to quit their activities.
We can assist you with a range of goals, including getting out of pain or improving your performance. The many types of conditions we see include
Concussion
Hip pain
Iliotibial band syndrome
Knee pain
Low back pain
Neck pain
Overuse injuries
Plantar fasciitis
Shoulder pain
We will work with your medical doctor, physical therapist and athletic trainer and get you started on the path of recovery, and get you back competing.
Dr. John saw numerous children visit the office that had been taken out of school and missed out on sports and activities because of a concussion. It piqued his interest in learning more about concussions, particularly the relationship concussions have with whiplash. He wanted to better understand how to assess when it truly is a concussion and what can be done about it.
In his younger years, Dr. John was injured on the field and taken by stretcher to the emergency room. The orthopedist recommended rest and physical therapy. Though Dr. John's health improved, he didn't regain feeling in his hand. A visit to his mother's chiropractor finally got results. "If I hadn't gotten chiropractic care, I'd still be suffering. Preventative care allowed me to keep playing sports and never have a major injury."
Navigating Life After You've Had a Concussion
Today, there is much uncertainty around diagnosing and treating a concussion. We can help you navigate the difficult times of dealing with concussion, post-concussion or cervical whiplash that accompanies a concussion. Though other doctors may check your head, they don't check your neck, which is always involved in a concussion.
Free Youth Baseline Concussion Testing
It's important to have your child get a baseline test for concussion. With this test, it can be compared to any future tests if you think that your child gets a concussion to determine the diagnosis. We have a computerized Romberg test, which is what a neurologist or pediatrician would use to diagnose a concussion.
We offer this testing for free to all youth in our area, including the Madison Youth Football Team.
Coordinating Our Care
We can work with any of your other doctors or your child's pediatrician to co-manage a case. Contact us today to learn more about sports, athletes & concussions in Madison!
CONTACT US »

Sports Chiropractor Madison, Clinton and Guilford CT | Shoreline Chiropractic